Fire Water Foam Hose Reel
Water supply through the center of the hose reel. Oil resistant, antistatic rubber hoses with working pressure 20 bar. Nozzle 200 LPM (95 gpm nozzle) foam eductor adjustable for 0 – 6% mixture of foam concentrate. 2" SST isolation valve.
Water inlet 2" BSP female thread. 1:3 gearing device with hand crank. Foam tank stainless steel AISI 316L. Design Temp. 0 to 35 Degree C. Hoses Reel of galvanized steel. Waterways can be made of gunmetal / SS / Cupro- nickel, Titanium grade 2. Working pressure 3- 10 Bar. Color – RAL 3000 red.
Option
Piping Cu 90/10 with Alubronze valve or Super Duplex SS. Foam educator – Alubronze Super Duplex SS or Titanium.
For any other special material requirement, kindly contact our technical department.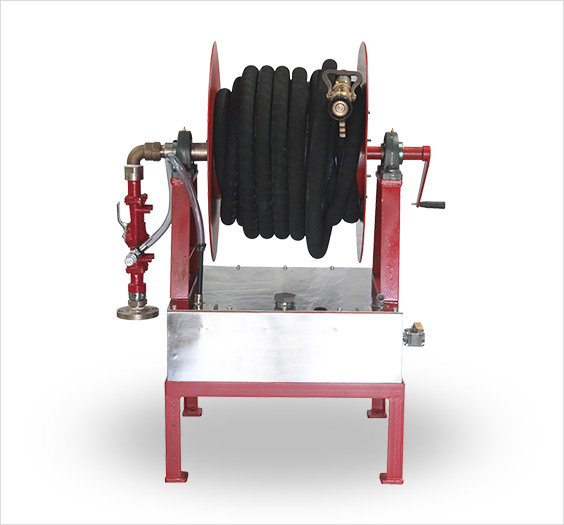 Utility Hose Reel
Galvanized welded steel hose reel drum with single length non collapsible, non-kinkable hoses. Externally coated with oil and abrasion resistant material to protect them from sunlight or mild dew damage with end connections.
Hose reel assembly shall be mounted on a frame.
Nozzles made of chrome plated brass, 95 GPM capacity.
For Hoses and Hose Reel Size or any other specific requirement, kindly contact our technical department.