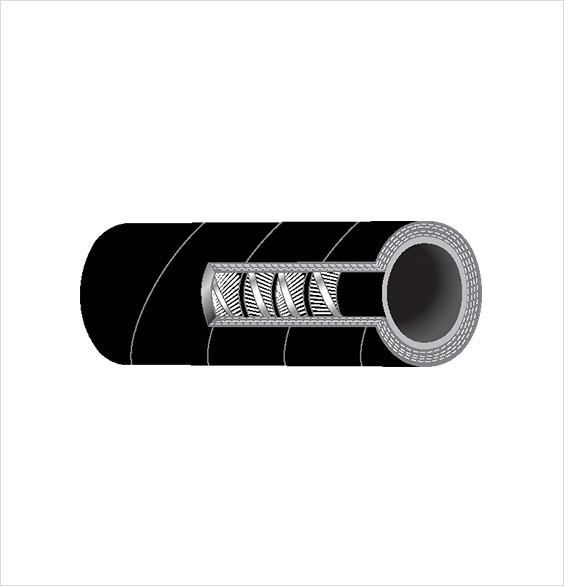 Light Duty (Road And Rail Tanker Hoses)
Specification
BS 3492/ IS 10733
Construction
Lining
:
Resistant to petroleum liquids
Reinforcement
:
Cotton textile or synthetic material with G.I. embedded wire
Cover
:
Resistant to weather abrasion and petroleum products
Electrical continuity
:
By providing anti-static copper wire
End connections
:
Normally flanged type or threaded nipple i.e. built in type / vulcanize / crimped / swaged
Couplings
:
As per BS 2464 or Lug type or Camlock type Male or Female or both end male or female as per requirement
Application
Discharging of petrol and diesel oil from tank truck & between tank, trucks & trailers. Suitable for pressure, vacuum and self discharge. Very low deformation when used for petrol.
I.D. mm
Working Pressure 1A & 1B kgf/cm2
Min. bend radius 1A & 1B mm
Working Pressure 2A & 2B kgf/cm2
Min. bend radius 2A & 2B mm
Different types of construction in BS 3492
Type 1A

Rough bore, light weight, maximum flexibility with internal and external wire reinforcement and corrugated outer cover.

Working pressure

:

3.5 kgf/cm2

Bursting pressure

:

14.0 kgf/cm2

Test pressure

:

7.0 kgf/cm2

Type 1B

Smooth bore, light weight and maximum flexibility with fully embedded wire reinforcement and smooth or corrugated outer cover.

Working pressure

:

3.5 kgf/cm2

Bursting pressure

:

14.0 kgf/cm2

Test pressure

:

7.0 kgf/cm2

Type 2A

Rough bore, medium weight, maximum flexibility with internal and external wire reinforcement and corrugated outer cover.

Working pressure

:

7.0 kgf/cm2

Bursting pressure

:

28.0 kgf/cm2

Test pressure

:

14.0 kgf/cm2

Type 2B

Smooth bore, medium weight and maximum flexiblity with fully embedded wire reinforcement and smooth or corrugated outer cover.

Working pressure

:

7.0 kgf/cm2

Bursting pressure

:

28.0 kgf/cm2

Test pressure

:

14.0 kgf/cm2