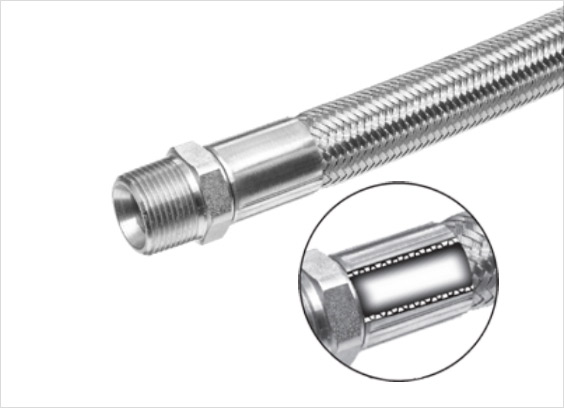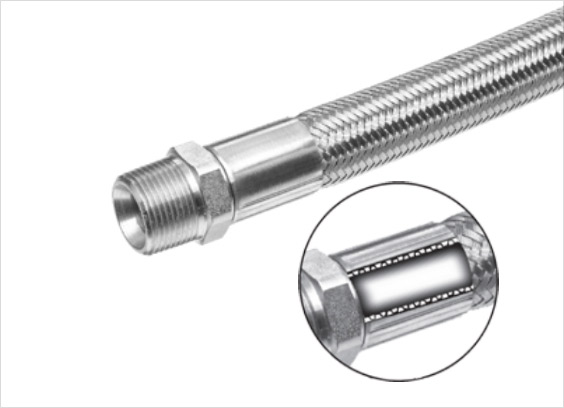 Smooth Bore – Medium Pressure PTFE Hoses
Construction
Smooth innercore of extruded white PTFE, with Stainless Steel wire braid reinforcement.
Temperature
-54°C to 232°C (-65°F to 450°F) for continuous service.
-73°C to 260°C (-100°F to 500°F) for intermittent service.
Medium Pressure PTFE Hoses Specifications
Code
I.D. inches
I.D. mm
O.D. mm
Operating Pressure psi at Room Temp.
Minimum bend radius mm
GPT 3
3/16
4.76
7.70
3000
50.8
GPT 4
1/4
6.35
9.10
3000
50.8
GPT 5
5/16
7.93
10.50
3000
76.2
GPT 6
3/8
9.52
12.00
2500
101.6
GPT 8
1/2
12.70
15.20
2000
132.1
GPT 10
5/8
15.87
18.70
1500
165.1
GPT 12
3/4
19.05
22.10
1200
195.6
GPT 16
1
25.04
28.20
1000
228.6
Advantages of PTFE for Flexible Hoses
PTFE is an ideal material for flexible hoses, to which a wire over-braid is added for excellent pressure ratings. Such hoses gives extremely long life because its inner core has out-standing resistance to steam, chemicals, solvents, heat pressure impulses, flexing, vibration and aging.
Flexible

:

PTFE hoses will stand up under severe conditions of continuous flexing and vibration without failure from flex fatigue.

Chemical resistant

:

Inert PTFE creates a nearly "Universal" hoses, capable of handling the broadest range of applications except the molten alkali metals such as sodium and potassium, and fluorochemicals such as chlorine trifluoride, oxygen difluoride and fluorine gas.

Non-stick

:

Medium Pressure PTFE Hoses are easily cleaned, to maintain batch purity when using one hoses for several services.

Low friction

:

Medium Pressure PTFE Hoses exhibits low pressure drop, which remains constant because no deposits accumulate on inside walls.

Temperature resistant

:

Even handles 180°C steam alternating with cold water.

Moisture resistant

:

Ideal for pneumatic systems requiring low dew point.

Non-aging

:

Properties of Medium Pressure PTFE Hoses do not change with age or exposure to weather.

End connections

:

Swages, Crimped or Reusable type.