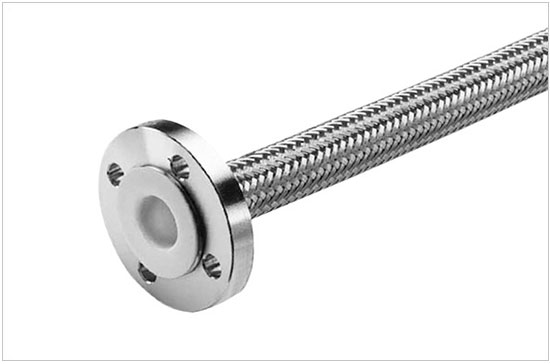 PTFE Lined Hoses (GTL)
All wetted parts are PTFE
GAYTRI PTFE lined hoses has the internal tube of PTFE inside the corrugated metallic hoses. PTFE lined hose has a PTFE liner and a braided or rubber cover.
The flange is assembled with the internal tube providing a liner inside and across the face of the flange. Chemical inertness is therefore maintained throughout the entire assembly.
GAYTRI PTFE lined hoses assemblies permit full utilization of the wide operating extreme characteristics of PTFE and are rated for continuous service from - 70° to 240°C. These ratings can be exceeded for intermittent operations, depending on time and over-all conditions. PTFE lined hose can be used in a wide variety of pressure rated hose assemblies for processing applications.