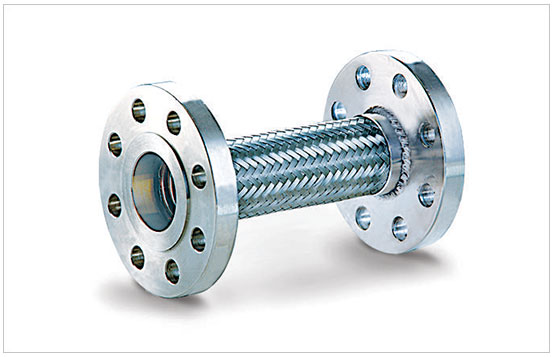 Corrugated Flexible Exotic Metal Hoses
Construction
Hoses Material
:
Monel, Bronze. Other Materials Available on Request
Braid Material
:
Monel, Bronze SS 304, SS 316.
Size Range
:
From ¼ to 4 inches
Temperature
:
Monel upto 427° C.
Application
Monel Excellent Chemical Resistance to Dry Chlorine, Salt Water & Alkalies Meets Requirement of Chlorine Institute.
Bronze Designed to maintain pipeline material integrity & prevent galvanic corrosions.
Note Hoses available upon request in metals such as Hastelloy Titanium, Inconel 600 & 625
For Further Information please contact / consult our technical department.
Advantage of Flexible Metallic Hoses
High physical strength.
Suitable for elevated temperature (800°C).
Fire resistant.
Good corrosion characteristics.
Long life (When installed correctly).
Resistance to penetration & damage.